View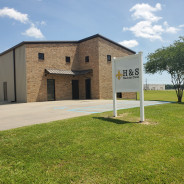 Kitamura is proud to announce the appointment of H & S Machine Tools as its new exclusive representative in Louisiana
H & S Machine Tools has been a leading full service supplier of machine tools throughout Louisiana for over 40 years and has a reputation for hard work, high quality products and outstanding customer service. Located in Broussard, LA, H & S provides customers with installation, training, applications, warranty and after warranty service on a variety of milling, turning, EDM, fabrication and measurement equipment throughout all of Louisiana, including coverage in Arkansas.
"We are proud to partner with Kitamura on their high quality line of vertical, horizontal and 5-axis machining centers" says Scott Eddins – President – H & S Machine Tools. "As an industry leader, Kitamura's extensive line of Horizontal Machining Centers (up to 1 Meter pallet in size), has a reputation for large work envelopes, and the rigid, heavy duty cutting capacities that customers in our territory require. The solid box way construction and high torque, geared spindle configurations available on their larger horizontals offer the output and performance that is vital to many of our oil and gas customers, and the niche mix of their vertical and 5-axis machining centers coupled with in field automation capabilities and machine monitoring technology offer a great solution for our production machining customers".
Offering outstanding local service, H & S recognizes that customer support involves more than just providing the right machine at the right price. "Kitamura welcomes our customers to visit the local showroom of H & S located in Broussard to see firsthand the high quality and high accuracy that Kitamura can bring to their shops" says Ted Asano, Vice President. "Today more than ever, it is important to look to forward reaching technologies to stay productive and competitive. We are looking forward to working with H & S to simplify machining challenges for our customers in Louisiana".
125 Spinner Drive
Broussard, LA 70518
Phone #337-552-2385