View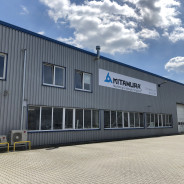 Kitamura Machinery Co., LTD Opens New Technical Center in The Czech Republic
On May 23rd, 2019, Kitamura Machinery Co., LTD opened its first technical center in Eastern Europe in Horobkov, Czech Republic. Bordering Kitamura's European Headquarters in Düsseldorf Germany, the technical center will showcase Kitamura's latest HMC, VMC and 5-axis technologies for educational and hands-on training experience.
"The Czech Republic is within an industrial cluster where many foreign companies have entered the market and built factories" said Dr. Akihiro Kitamura, Ph.D.,Eng., President & C.E.O. "In response to the growing demand for after sale service for our Machining Centers in this region, we are proud to be able to open this state-of-the-art technical center. With the opening of this technical center, we will be able to more quickly and precisely address the needs of our customers throughout all of Europe. With a total floor layout of over 5,400Sq.ft, we currently have three horizontal machining centers (one with pallet pool) and one 5-axis vertical machining center for exhibition at all times to provide training, demos and test cuts for our dealer network and our customers."
The new technical center, in partnership with our local Czech dealer, TGS, promises to further promote Kitamura and the machining industry as a whole with a focus on the best in support and services to our customers on a local level. The facility will be open on demand and staffed by knowledgeable factory trained Kitamura engineers for those dealers and customers who require a more extensive technical approach to their part processes.
Kitamura Machinery GmbH
Wahlerstrasse 39,
40472 Düsseldorf,Germany
Telephone: +49 211 65 6077
kitamrua-machinery.eu
sales@kitamura-machinery.eu